A Vibrant Network
gbs regional groups gathered at the foundation's headquarters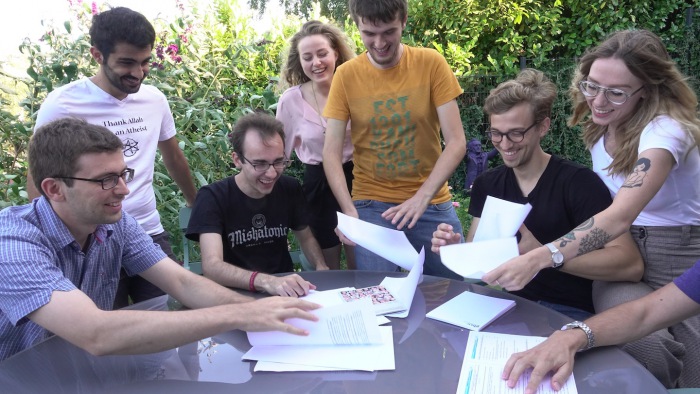 Last weekend the annual regional group meeting took place at the headquarters of the Giordano Bruno Stiftung (gbs) in Oberwesel. 70 participants from 31 regional and student groups as well as foundation staff came together to exchange ideas, report on their activities and plan new projects.
In the coming months, the Giordano Bruno Stiftung will mainly focus on the topics "70 Years of Human Rights", "Children's Rights", and "100 Years Constitutional Breach". A new brochure on the subject "Artificial Intelligence and Digitization" will soon be published with the title "How should IT work?" which will be distributed at the Stuttgarter Zukunftssymposium "Mensch bleiben im Maschinenraum" ("Remaining Human in the Engine Room").
One of the foundation's special concerns is the promotion of young talent, as could be seen from the many young faces at the meeting in Haus Weitblick. Some of them have since founded the Bundesarbeitsgemeinschaft Humanistischer Studierender (Federal Working Group of Humanistic Students), which is committed to putting an end to the preferential treatment of religious groups at universities and, with support from the gbs, is also planning to establish a humanistic support organization for gifted students. Moreover, two new groups have been founded: The Student Group Constance and gbs Schleswig-Holstein.
The presentation of the regional and student group's numerous activities covered half a day. Many had participated in the campaign "Tanz den Karfreitag" ("Good Friday Dance"), in the information campaign for the "Luther Year" and in the "March for Science", or had launched initiatives relating to the "Evokids" project in order to promote evolutionary education in schools. In addition, the individual regional groups are increasingly networking with other organizations in order to organize joint actions.
It is difficult to select particularly outstanding projects from the abundance of different projects. This certainly includes the founding of the "Atheist Refugee Relief" initiated by gbs Cologne and now also active in Berlin, the "DA! Art-Award" of the Düsseldorfer Aufklärungsdienst and the festival "Sieben Tage sind nicht genug" ("Seven days are not enough") of gbs Karlsruhe.
In addition to presenting the work of the regional and student groups, gbs employees gave an overview of their activities. For example, Jacqueline Neumann provided information about the work of the Institut für Weltanschauungsrecht (ifw - Institute for Worldwiew Law) in the fields of "crucifix decree", euthanasia, church fees, and religious education. Nicolai Sprekels reported on Saram, now a foundation of its own, which works for human rights in North Korea and is supported by the gbs.
The meeting took place in a sincerely cordial and inspiring atmosphere; even late in the evening there were heated discussions over wine and beer about artificial intelligence, ideological neutrality, or bioethics. At the farewell many participants said that they are already looking forward to the next time and would be happy to participate again next year.