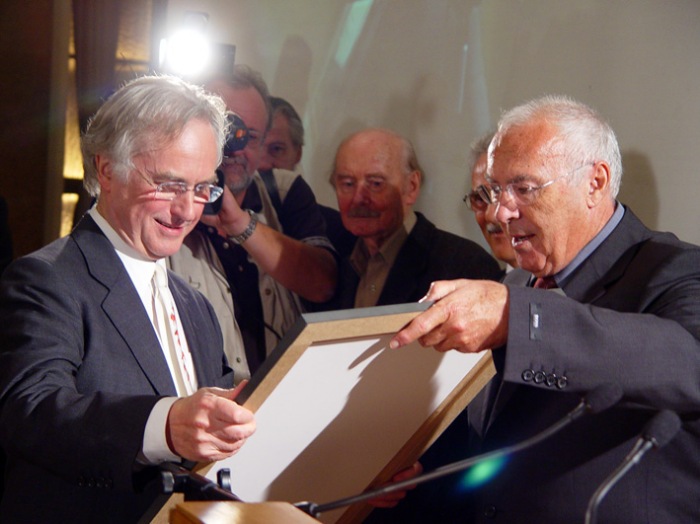 The Giordano Bruno Stiftung awards two prizes worth €10,000: the "Deschner Prize" for outstanding achievements relating to the criticism of religion and ideology, and the "Ethics Prize of the Giordano Bruno Stiftung" for developing positive alternatives in the sense of evolutionary humanism.​
In October 2007, the Deschner Prize, which is named after the author Karlheinz Deschner ("The Criminal History of Christianity" – "Kriminalgeschichte des Christentums"), was awarded for the first time. The recipient was the renowned British evolutionary biologist Richard Dawkins, who received the prize at a festive event at the Johann Wolfgang Goethe University in Frankfurt. In the citation, the foundation noted that Dawkins had performed outstanding services to the cause of secular, scientific and humanist thinking with his work in evolutionary biology, and especially with his book highly critical of religion, "The God Delusion".
The "Ethics Prize of the Giordano Bruno Stiftung" was awarded 2011 for the first time in the German National Library in Frankfurt. The Italian philosopher Paola Cavalieri and the Australian philosopher Peter Singer received the prize for their commitment to animal ethics, in particular as initiators of the Great Ape Project ("Basic Rights for Apes"). Supported by eminent primatologists such as Jane Goodall, the Great Ape Project demands that some of the privileges currently reserved for human beings be extended to orangutans, gorillas, bonobos and chimpanzees: the right to life, the right to individual liberty, and the prohibition of torture. In the citation, the gbs noted that the Great Ape Project might be a door-opener for further demands of the animal rights movement as it sharpened the awareness that ignoring the interests of living beings, just because they don't belong to our species, is unethical.
In 2016, Raif Badawi, a blogger imprisoned in Saudi Arabia and sentenced to 1000 whip lashes, and his wife, human rights activist Ensaf Haidar, were awarded the Deschner Prize of the Giordano Bruno Stiftung. The foundation honoured them for their "mutual, courageous, and self-sacrificing commitment to secularism, liberalism, and human rights" with a moving ceremony at the German National Library in Frankfurt.
»There is also another prize, called the Templeton Prize. The only specification of the quantity is that it has to be larger than the Nobel-Prize money. But I'm here to tell you today that if I were given the choice between the Templeton Prize and the Deschner Prize I would go for the Deschner Prize.«
(Richard Dawkins)