Promotion of Humanism and Enlightenment as the Mainstream Culture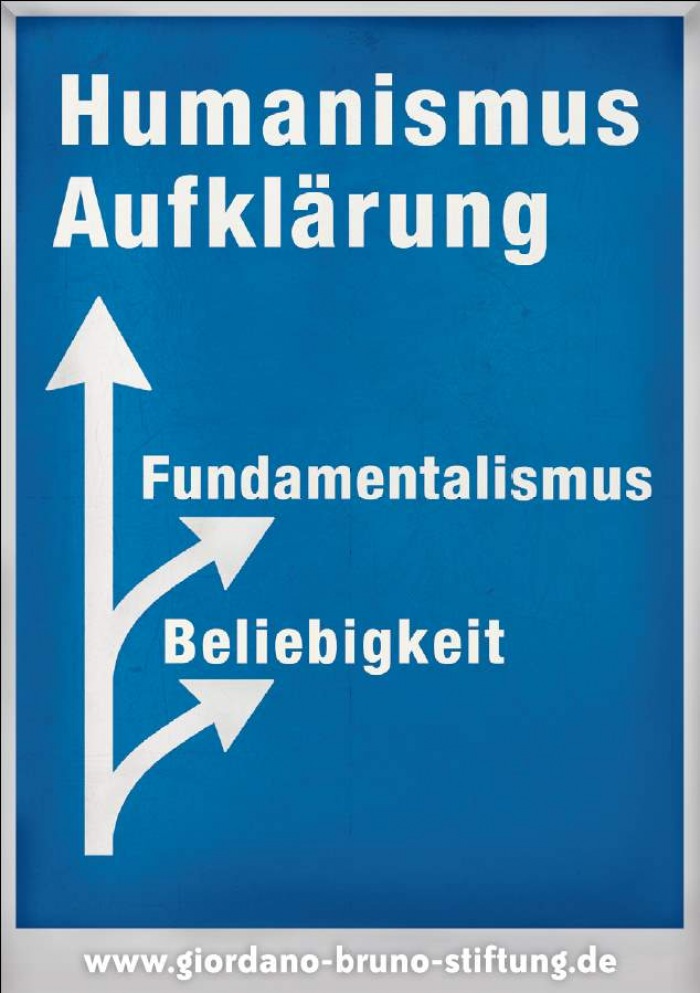 The Giordano Bruno Stiftung stands for the values of humanism and enlightenment, and protests whenever blatant infringements of these occur. During the controversy surrounding cartoons of Mohammed, the foundation started a widely noted campaign for the protection of free speech and artistic expression, something which must not be allowed to fall victim to religious fundamentalism.
The gbs has also opposed various attempts at censorship by the state, as well as Ursula von der Leyen's "Alliance for Upbringing", which attempted to bring a stronger religious element into the raising and educating of children.
Representatives of the gbs have entered the debate on assisted suicide to promote the right to self-determination at the end of one's life, and have criticized the weakness of attempts to remove creationism from the school curriculum. The foundation has also opposed many cases of "cultural relativism", i.e. the assumption that people from different cultures do not necessarily benefit from the same constitutional protection of human rights. An example is the court case in Frankfurt in 2007, in which a German judge effectively approved a Muslim man's right to beat his wife "on cultural grounds".
According to the gbs, the violation of human rights should never be swept under the carpet with some kind of postmodern "anything goes" attitude. Humanist principles and fundamental modern values should be defended. The foundation has been active in campaigns such as that against the "culturally legitimized" practice of genital mutilation and has supported the International Committee against the Death Penalty in its attempts to save people sentenced to death under Sharia law. In the case of Nazanin Fatehi, a 17-year-old Iranian woman, this was successful.
"It should be clear that everybody has the right to believe what they want, after all, thoughts are free – including being free to be irrational. But in the 21st century that should not be influencing politics anymore. Public political discussion must necessarily be based on secular standards…"
(Manifesto of Evolutionary Humanism)