"One Billion Euros in Compensation Payments Are Pending"
Ifw supports call for adequate compensation for victims of church abuse scandal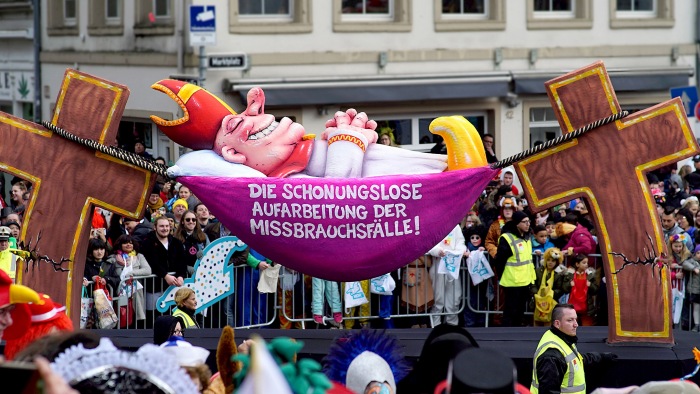 At the Catholic Bishops' Conference in Fulda, which begins today, the causes and consequences of the church abuse scandal are to be discussed. The victims' association "Eckiger Tisch e.V." has presented a concept for a blanket compensation of 300,000 euros per person. Members of the "Institute for Secular Law" (Institut für Weltanschauungsrecht - ifw) had met with Matthias Katsch, spokesman of Eckiger Tisch, in the run-up to the Bishops' Conference and promised him the Institute's support.
The ifw already made headlines last year in connection with the abuse scandal. In October 2018, after an exclusive report by SPIEGEL, it became known that six renowned law professors had filed criminal charges against sexual offenders of the Catholic Church throughout Germany in conjunction with the Institute and had demanded preliminary proceedings in all German dioceses. The reports were prompted by the results of the abuse study conducted by the German Bishops' Conference. According to the study, in the period from 1946 to 2014 in the 27 dioceses there had been sexual crimes committed by a total of about 1670 clerics against children and adolescents.
Now the Institute will address the civil law processing of the abuse scandal, as ifw director Jacqueline Neumann explained in an interview with the annual magazine "bruno." of the Giordano Bruno Foundation published on 9 October: "The church's attempt to partly compensate those affected with 5,000 euros, i.e. half a monthly bishop's salary, is obviously acceptable for the leading bishops, but for nobody else. If we apply international standards here, we end up with compensation payments of about 300,000 euros per victim of abuse. For the victims of the church sexual abuse system there is thus a sum of at least one billion euros pending."
ifw offered the victims' association "Eckiger Tisch e.V." help in negotiating an out-of-court settlement with the German dioceses. Should such a negotiated solution not be possible, ifw will also support model trials. Jacqueline Neumann argues that a fair out-of-court settlement is definitely preferable. She therefore hopes that the current Bishops' Conference will seriously discuss the "Argumentationspapier Entschädigung" ("Argumentation Paper on Compensation"), which has meanwhile also been published on the victims' association's website.