92 Percent of Germans Abstain from Church Services
fowid publishes statistics on religious beliefs 2019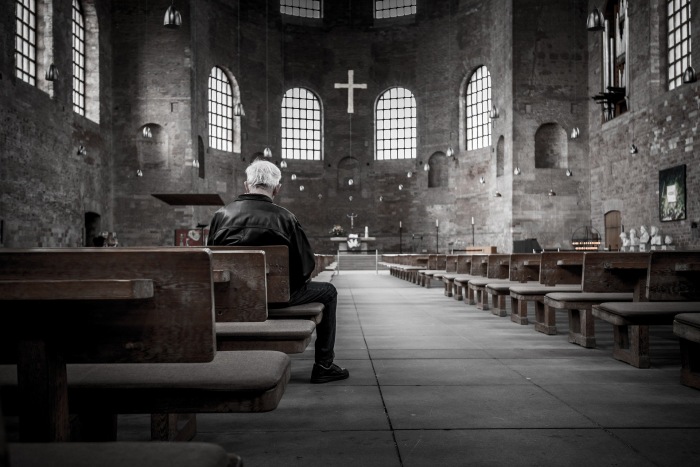 At the end of last year, the proportion of non-denominational people in the population had risen to 38.8 percent, while the proportion of Catholics and Protestants had fallen to 27.1 and 24.9 percent respectively. This is the result of the statistics "Religious affiliations 2019" published today by the "Forschungsgruppe Weltanschauungen in Deutschland" (fowid - Research Group on Worldviews in Germany). For the first time, the data sheet also includes an analysis of "lived religion", which shows that only 7.9 percent of people living in Germany can be considered "practicing believers".
In 2019, approximately 270,000 Catholics and Protestants each left their church, amounting to a total of 542,000 people. Only 33,669 people - for both churches combined - entered or re-entered the church membership. Another negative factor affecting church membership statistics was the great disparity between newly baptised and deceased church members. Overall, both major Christian churches lost about 800,000 members in comparison with the previous year.
By contrast, the group of non-denominational persons grew by about 900,000 over the same period, increasing their share of the German population from 37.8 (2018) to 38.8 percent (2019). As fowid director Carsten Frerk explains, this group of non-denominational people also includes the so-called "cultural Muslims", who see themselves as "non-religious", do not pray and do not participate in religious events. The research group conservatively estimates the proportion of "cultural Muslims" within the group of people commonly referred to as "Muslims" at 20 percent, although Frerk notes that this percentage may have to be readjusted upwards in the future in view of new research.
"Denominational Muslims", who consider themselves "religious", now make up 5.2 percent of the population. Compared to the previous year, this group has grown by about 70,000 people. In contrast, there have been few changes in the other religious communities: The largest group, the Orthodox Christians, has a population share of just under 2 percent, while the other Christian communities (including the Free Churches, the New Apostolic Church, and Jehovah's Witnesses) together make up about one percent of the total population. The other religious communities (Jews, Buddhists, Hinduists, Yazidis, etc.) account for a similar proportion of the population.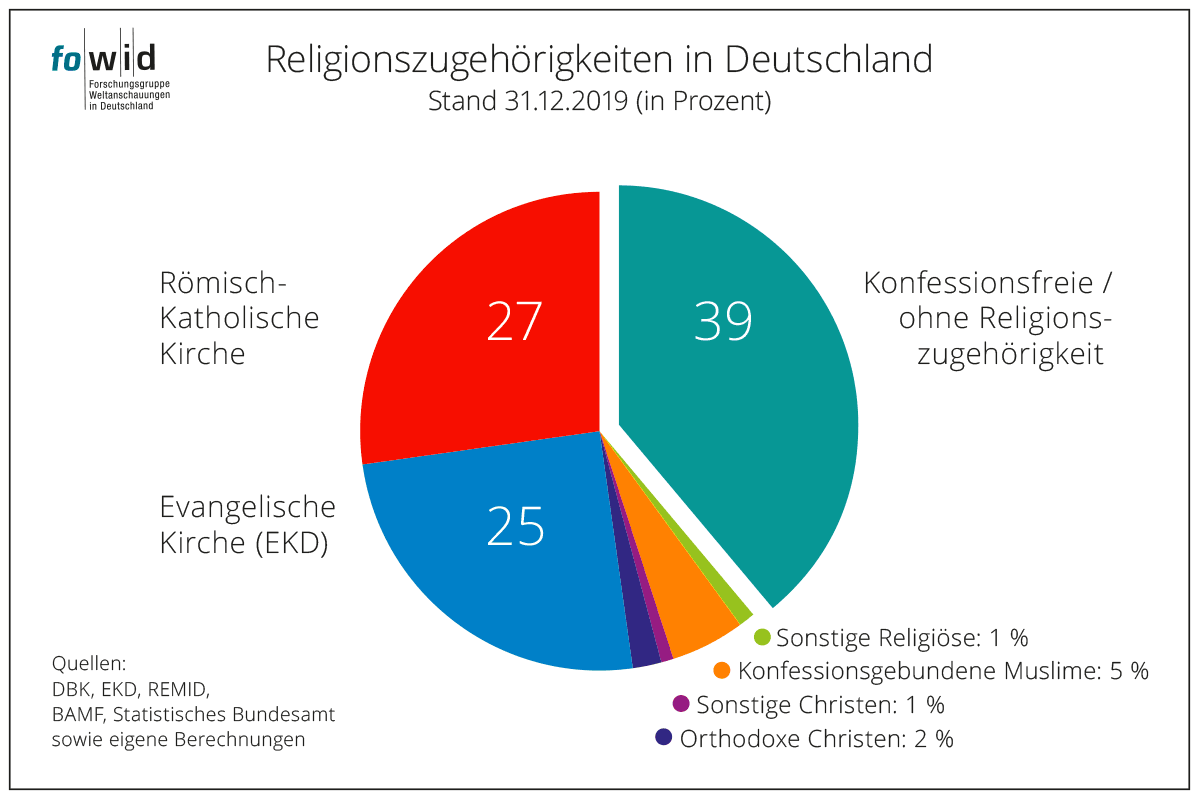 Only a minority practices their faith
Since nominal denominational affiliation hardly says anything about what role religious belief actually plays in people's lives, the "Research Group on Worldviews in Germany" has for the first time also examined "religious practice in Germany" in its publication today. The head of fowid, Carsten Frerk, defines as "practicing believers" those people who regularly, i.e. at least once a month, attend church services, such as Christian masses or the Muslim Friday prayer.
According to the German Bishops' Conference, in 2019 only 9.1 percent of Catholics regularly attended a service. In the Protestant regional churches, the proportion of people attending church services was already a meagre 3.4 percent in 2017 and has probably hardly increased since then. Among Muslims, on the other hand, around 50 percent attend mosque services (e.g. for Friday prayers) on a regular basis. Frerk sets a similarly high rate for the other Christian and non-Christian religious communities because of structural similarities (minority position, high value of contact with like-minded people).
If these internal religious quotas are converted to the total population, it becomes clear that only a minority of 7.9 percent of people living in Germany practice their own faith on a regular basis. "Denominational Muslims" are now the largest group, accounting for 2.6 percent of the total population, followed by Catholics (2.5 percent), members of other Christian and non-Christian religious communities (2 percent) and Protestants (0.8 percent).
In Germany, we can hardly speak of "lived religiousness" any longer: Today, 92.1 percent of people living in Germany frequently refrain from attending religious events. The fact that the overwhelming majority of Germans are now "practice-free abstainers" is not only due to the steadily growing group of non-denominational people. After all, 25 percent of the population are non-practicing Catholics, 24 percent are non-practicing Protestants.
Within both churches, those "refusing to attend church services" now account for more than 90 percent of their members. The fact that 96.6 percent of Protestants do not attend church regularly is less surprising than the fact that 90.9 percent of Catholics do not participate in church services either. After all, according to Catholic conviction, participation in the "Holy Eucharist" is an essential prerequisite for the "eternal salvation of souls". It is possible that the stability of faith of Catholics is now even worse than the stability of faith of Protestants.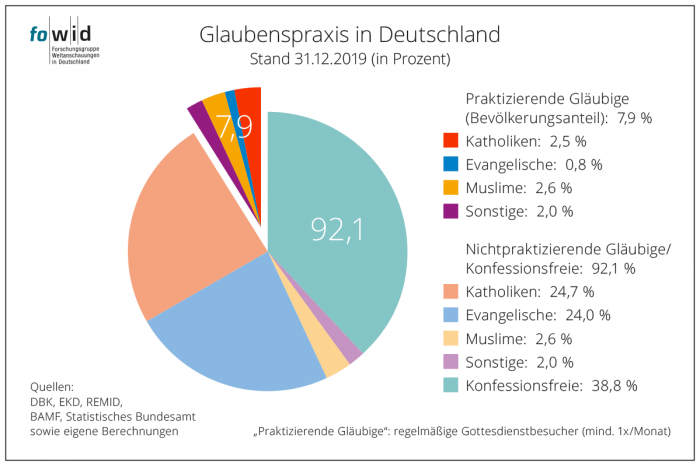 The gradual loss of significance of the churches
Michael Schmidt-Salomon, spokesman of the board of the Giordano Bruno Foundation, from which the "Research Group on Worldviews in Germany" emerged, commented on the current fowid analysis as follows: "The data impressively reveal that the trend towards de-churching society will continue and, given the marginal importance of 'lived religiousness' and the age structure of believers, will probably even accelerate. Hopefully, this gradual loss of significance of the churches will be recognized by politicians, so that they no longer accept the influence of religious lobbyists, who effectively represent far fewer people than is generally assumed".
Schmidt-Salomon recently pointed out the loss of significance that the churches have suffered in recent decades, especially in young, enlightened, cosmopolitan circles, in a detailed radio interview broadcast last Monday by Deutschlandfunk. In describing the underlying processes of social change, he used a catchy phrase: the "enlightened religion" is a "dying cultural phenomenon - comparable to male choral societies singing 'Am Brunnen vor dem Tore'".