"Happy Birthday, Charly!" - Darwin's 200th Birthday Ceremony at the German National Library in Frankfurt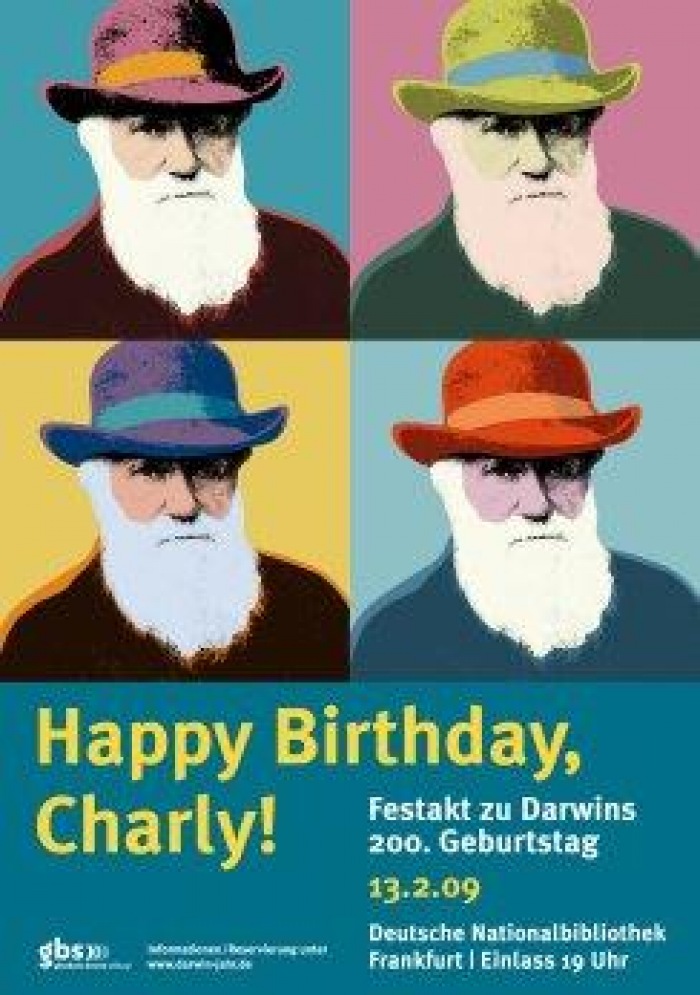 February 12, 2009, is Charles Darwin's 200th birthday. The following day, Friday, February 13, a ceremony will be held at the German National Library in Frankfurt (Adickesallee 1, 60322 Frankfurt/M) in honour of the founder of the theory of evolution. The event is organized by the Darwin Year Committee of the Giordano Bruno Stiftung and the working group Evolutionary Biology in Verband Biologie, Biowissenschaften & Biomedizin.
In this informative as well as entertaining program, renowned evolutionary biologists will explain the great scientific achievements of Darwin and the direction evolutionary biology has taken since Darwin's time. Filmmaker Ricarda Hinz has also prepared some video recordings for the ceremony. Rumours have it that Charles Darwin will appear in person at the National Library and give a short thank-you speech.
After the ceremony there will be an opportunity to talk to the authors Thomas Junker/Sabine Paul ("Der Darwin-Code", publisher C.H. Beck), Ulrich Kutschera ("Tatsache Evolution", dtv), Michael Schmidt-Salomon/Helge Nyncke ("Susi Neunmalklug erklärt die Evolution", Alibri Verlag) and Franz M. Wuketits ("Evolution ohne Fortschritt", Alibri Verlag) and to have books signed.
The programme starts at 8.00 p.m., admission and reception is at 7.00 p.m. Information on the event can be found on the website www.darwin-jahr.de. As the number of seats is limited, we recommend booking as early as possible.