March for Science 2018
On April 14, the "March for Science" will take place in 15 German cities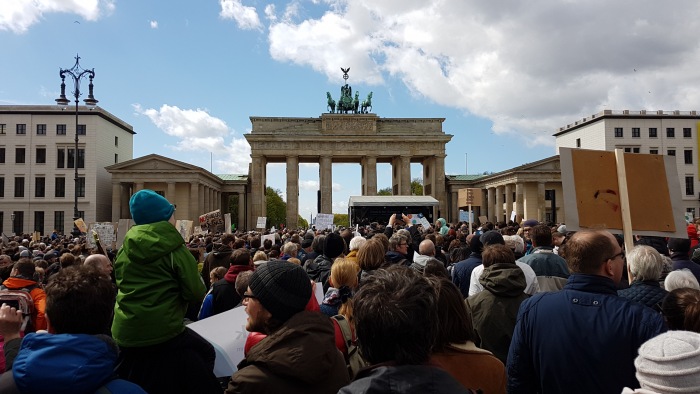 The "March for Science" last year brought more than one million people to the streets worldwide. In Germany alone over 37,000 people in 22 locations demonstrated for the freedom of science and research. This year on April 14 demonstrations and events will take place in at least 15 German cities. As in the previous year the Giordano Bruno Stiftung will support the "March for Science 2018" not only idealistically but also financially.
Those who deny scientific facts undermine the foundations of rational debate. Therefore, the political trend towards "alternative facts" and "postfactual arguments", which can now be observed from Moscow to Washington, affects not only scientists but society as a whole. As in 2017, demonstrations and other events will take place worldwide on 14 April 2018 to defend the freedom of research and teaching.
Claus Martin, who coordinates and networks the events in Germany as one of the chairmen of the March for Science association, explains: "The 'March for Our Lives' this weekend showed once again that demonstrations can make a difference. That is why public demonstrations will continue to play an important role for us. But we also want to create opportunities for dialogue. Science is part of society, so we need to talk to one another."
His fellow board member Dr. Tanja Gabriele Baudson, who received the "University Teacher of the Year" award from the German University Association at this year's "Gala of German Science", calls for corresponding changes in science policy: "If research is not free, mistrust among the population will grow. Financial dependence on external donors is a central reason why people do not trust science." According to Baudson, this problem is homemade to a large extent: "Acquired third-party funding and publications are the main criteria for appointments to professorships. If science is to open up, we need changed incentive structures."
In addition to "classical demonstrations", the March for Science will also experiment with other formats this year. Those interested will be able to discuss science face-to-face with researchers - for example at the Dresden "Forum of Ideas", in the "Science Arena" on Frankfurt's Römerberg or at the "Kieznerds" in Berlin and Potsdam. "We wish for sincere dialogue. Who only sends and does not listen misses many possibilities to learn something themselves," says Martin. All of this is accompanied by a number of prominent discussion events, at which the audience is also invited to engage in dialogue.
Demos and events will take place in at least 15 German cities during March for Science 2018 on April 14 (see the website of March for Science association for an overview). Unlike 2017, the regional march organizers do not need to submit their invoices directly to the Giordano Bruno Stiftung this year. Instead, the bills will be cleared via the non-profit "March for Science association", which receives financial contributions from the Giordano Bruno Stiftung for the organization of the German Science March. If you would like to support the "March for Science association" further, we recommend the association's donation account (IBAN: DE82 8306 5408 0004 0317 33 / BIC: GENODEF1SLR).