New Year Reception 2020
gbs starts the new year with Beethoven on 5 January
2020 marks the 250th anniversary of the birth of Ludwig van Beethoven. The composer's works will certainly be heard particularly often in the "Beethoven Year" - as on 5 January 2020 at the Giordano Bruno Foundation's New Year's Reception in the "Haus Weitblick" above the Rhine Valley. After a short New Year's speech by Michael Schmidt-Salomon, the internationally renowned pianist Kai Adomeit will perform striking piano pieces by the "lonely revolutionary" Ludwig van Beethoven.
"Freedom - Equality - Fraternity!" - No other composer has expressed the ideals of the French Revolution in tones like Beethoven. He sincerely hoped for a time "where there will only be human beings" instead of aristocrats, citizens, unfree people - and yet he doubted that this happy moment would come in the near future; "we will not see that, there will probably be centuries to come". Legendary in this context was his rebuff to one of his greatest benefactors, Prince Karl von Lichnowsky: "Prince! What you are, you are by chance and birth. What I am, I am through myself. There are thousands of princes, and only one Beethoven."
With his 9th symphony, Beethoven created the "world citizen anthem" par excellence ("All people become brothers" / "Be embraced, millions!") - and yet throughout his life (probably also due to his increasing deafness), he remained a moody loner who could never fully engage with other people. He processed his inner struggles in his music, which was much more individual than anything heard before. In his works, Beethoven succeeded not only in making the dimension of the one humanity audible, but also the specific hopes, dreams, fears and longings of the individual. This probably explains the particular fascination emanating from his compositions. His music connects people around the globe. It is not without reason that today - 250 years after his birth - he is considered the most frequently performed composer worldwide.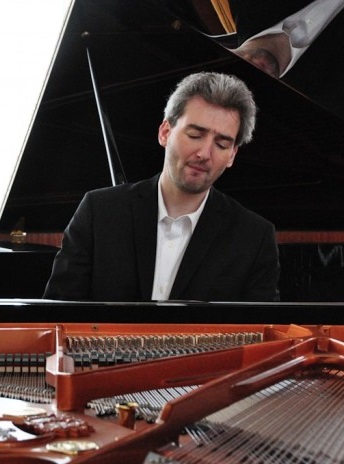 Kai Adomeit, born in 1968, received the "Mozart Prize" of the city of Mannheim at the age of nine. His complete recording of Rachmaninov's piano concertos at the beginning of the 1990s was awarded the "Choc du Monde", the highest rating by the French specialist magazine "Le Monde de la Musique". He has performed with, among others, the Bavarian Radio and SWR Radio Orchestras, the Ljubljana Radio Symphony Orchestra, the Berlin Symphony Orchestra, the Braunschweig Philharmonic State Orchestra, and the Deutsche Staatsphilharmonie Rheinland-Pfalz. After a prolonged break, he returned to the concert podiums in 2019 with the 5th piano concerto by Ludwig van Beethoven in the great hall of the Elbphilharmonie Hamburg.
Program:
New Year's speech by Michael Schmidt-Salomon
Kai Adomeit performs works by Ludwig van Beethoven
Allegretto WoO 53 c-moll
Sonata Op.27 No.2 c sharp minor "Moonlight"
6 Bagatelles Op.33
Sonata Op.13 c minor "Pathétique"
Grave - Allegro molto e con brio
Adagio cantabile
Rondo Allegro
Intermission
Sonata Op.57 f minor "Appassionata"
Allegro assai
Andante con moto
Allegro ma non troppo
The gbs New Year's reception with Kai Adomeit on Sunday, January 5, 2020 (Attention: NOT on New Year's Day as in previous years!), in the "Haus WEITBLICK" in Oberwesel (Auf Fasel 16, 55430 Oberwesel), starts at 2.30 pm (admission with champagne reception at 2 pm). Since the number of seats is limited, a previous registration is required. Feedback will only be given if all seats have already been allocated. Admission is free, but donations are gratefully accepted.
Attention: To relieve the parking situation we ask our guests to travel by train or to park their car free of charge at the train station (Mainzer Str. 6, opposite the red church, 55430 Oberwesel). A taxi shuttle service for a free transfer between the station and the foundation's headquarters will be available for all guests before and after the event (shuttle service from the station to "Haus Weitblick" between 1.30 pm and 2.30 pm, and after the event back from the foundation's headquarters to Oberwesel train station).