Petition for the Abolition of the "Blasphemy Paragraph" Published
Giordano Bruno Stiftung calls for the strengthening of freedom of art, press, and expression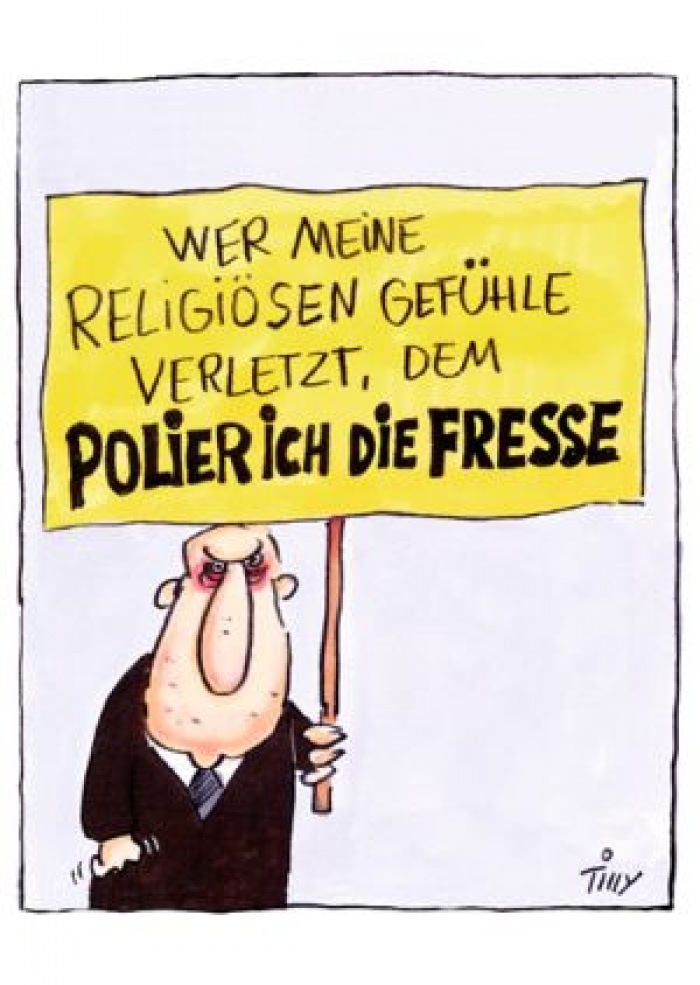 The Petition Committee of the German Parliament published the petition for the deletion of the so-called "blasphemy paragraph" 166 StGB (German Criminal Code) on its website. The paragraph threatens artists with prison sentences of up to three years if they "insult" religious or ideological confessions in their works in a way that is likely to endanger public peace. The petition can be signed from now on. The subscription period ends on 17 February, 2010.
German philosopher and spokesman of the Giordano Bruno Stiftung (gbs), Michael Schmidt-Salomon, submitted the petition on January 8, 2010, as a reaction to the attack on the French satirical magazine "Charlie Hebdo". "I think, in the current situation, the legislator must make absolutely clear that they value the freedom of art more than harmed feelings of religious fanatics," Schmidt-Salomon explained on Tuesday at the gbs foundation headquarters in Oberwesel. "It must be remembered that, according to German law, Charlie Hebdo's satirists could have been convicted because their drawings inspired fundamentalists to commit acts of terrorism. Such a reversal of the perpetrator-victim relationship should not exist in a modern constitutional state! Therefore, all 'Charlie Hebdo' solidarity statements of the Chancellor leaves a stale aftertaste as long as § 166 StGB continues to exist."
In his statement, Schmidt-Salomon pointed out that German politicians alongside the United Nations have been campaigning to abolish blasphemy laws in other countries for years: "This demand would be far more credible if Germany were to set a good example and abolish § 166 StGB without replacement". It is true that in Germany - in contrast to many Islamic countries - mere criticism or 'insult' of a religion is not a punishable offence, but only such forms of criticism which are capable of endangering public peace. "Paradoxically, however, precisely this protection of public peace leads to a threat to public peace," Schmidt-Salomon stated. "From its very wording, § 166 encourages the religious to take militant action against satirical art. This is the only way they can show that public peace is endangered by the alleged violation of their religious feelings."
According to Schmidt-Salomon, this view has been confirmed "involuntarily" by none other than Joseph Ratzinger, later Pope Benedict XI, who stated with regard to § 166 StGB: "If the jurisdiction justifies the aptitude to disturb peace with the absence of riots, it indirectly gives an invitation to the violent threat of one's own conviction and thus to the rule of force". At that time, Ratzinger pleaded for § 166 StGB to be tightened and for the mere "insult" of a religion or belief to be punishable.
"This, however, would corrupt the principles of an open society in which every individual has the right to freely articulate their opinion," Schmidt-Salomon criticised. "Basically, such a strengthening of the paragraph would endanger freedom of religion itself; after all, the Bible and the Koran discredit those who believe and think differently far worse than any satirist in the world ever has. If we compare, for example, the threat of eternal torture and hell in the original sources of Christianity and Islam with the caricatures of 'Charlie Hebdo', these are little more than harmless jokes."
If we consider how religion-free people are insulted in the "holy scriptures", they would have far more valid reasons than believers to feel insulted. However, "the reference to one's own insult is not a reasonable argument in the ideological debate, but rather an attempt to prevent this necessary debate". For this reason, the modern constitutional state must never give in to the religious fanatics' desire for censorship, Schmidt-Salomon stressed: "The appropriate reaction to the intimidation attempts of militant Islamists is to dare more freedom and to strengthen the productive debate culture of Enlightenment. For this reason alone, the old censorship paragraph 166 StGB must fall! Therefore, we hope that our petition will find as many supporters as possible."
Petition for the deletion of § 166 StGB:
https://epetitionen.bundestag.de/content/petitionen/_2015/_01/_08/Petition_56759.html
Facebook page on the petition (you can also invite your FB friends to join you):
https://www.facebook.com/events/1380049848970918/
Alternatively, signatures (co-signers of the petition) can also be collected offline. Please print this flyer (pdf) and send it to the office of the Giordano Bruno Foundation.
PLEASE NOTE: THE SUBSCRIPTION PERIOD FOR THE PETITION HAS NOW EXPIRED! The petition was signed by over 11,000 people, see our first summary.